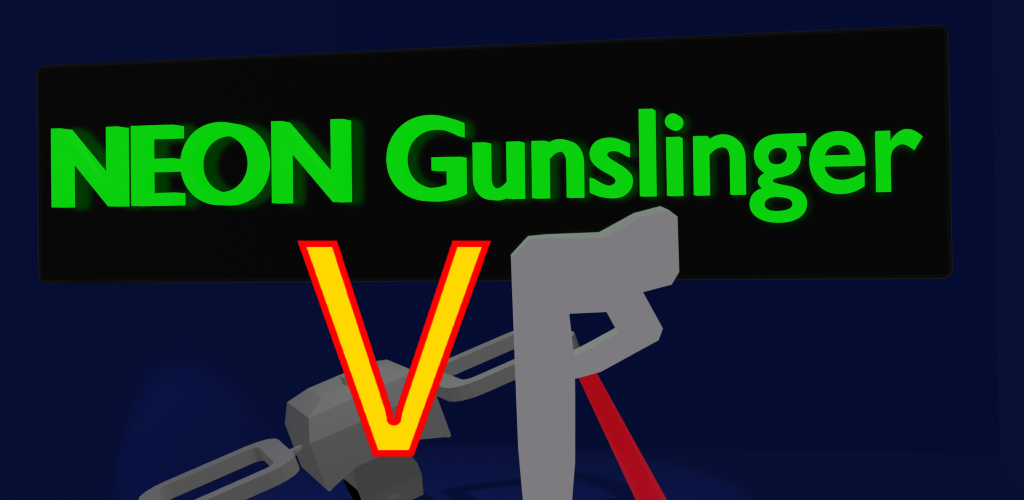 Neon Gunslinger VR
SHOOT SHIELD SLASH
Fast paced VR Gunplay from Start to EXPLOSIVE Finish
Draw your blasters, and throw them at enemies when you're out
Summon your blades to slash through charging drones
Grab your shield to block the barrage of incoming lasers
Free to Play
Free to Keep
FREE FOREVER
Updates Through SideQuest
---
Post Mortem
Neon Gunslinger VR was developed in two weeks time over two months with half of the time taken up by modeling and music composition, and the other half on programming and design iteration. For those wondering why it's "over two months," generally I will work on multiple projects at the same time while also doing other work, so the work time of a project tends to get spread out over a longer period. Notably this is also my first project to feature 3D models that I made!
Almost immediately upon implementing them, I was pretty in to the idea of having the blade reflect lasers and allow players to throw their shields like a certain patriotic captain. However this made the blade significantly more useful than the other two in terms of offensive and defensive capabilities and adding a throw to the shield does something similar. There would have been ways to balance the three if I included the features in the final game, however I preferred having each tool in the player's arsenal have a specific purpose encouraging fast swaps between items. This idea is reinforced by charging drones only being vulnerable to the blade, and the shield being the player's only means of defending against unavoidable lasers.
One feature that I chose to not invest as much time in to was the tutorial knowing that the audience that would play NGVR would almost certainly be familiar enough with VR to not require an in depth tutorial and I wanted to focus on designing the gameplay. Tutorials in VR are much more complicated to effectively convey to new players necessary information to the player than in a non-VR title as I've learned from showcasing projects to people at conventions as well as research and observation. What makes VR interesting right now is that at conventions (pre-COVID, which at the time of writing is still an global concern) EVERYBODY wants to try it: not just the typical gamer who spends 20+ hours a week playing 1/10th of their Steam Library. Of course VR tutorials can also lean into the design language and UX of the real world, which I intend to do with my next VR project (hint hint), however for the purposes of NGVR and again considering it's target audience: text at the title screen is fine.
A couple of details I wasn't sure if I even wanted to convey to the player were the sound and visual queues of the enemies. In all games but VR especially, having both visual and auditory feedback to player action is immensely impactful to immersion but it can also serve a game design purpose. Specific sounds that play when a drone does a particular action were going to be taught to the player (as well as a chirp sound a laser makes to warn the player it's getting closer) in the tutorial, but as stated above this was replaced with simple text to simplify the project's development. Part of me wanted players to figure this out on their own, but I wanted players to get a sense that if they were hit or made a mistake it was their own fault and pointing out to the player that there are multiple queues they can take advantage of during gameplay when they're distracted with other things was my way to enforce that.
Created with Godot: godotengine.org/license
Developed with the Neospark314's OQ Toolkit

Audio made with Rytmik Studio
Download
Click download now to get access to the following files:
Neon Gunslinger VR 1 0 0.apk
32 MB
Neon Gunslinger VR 1 1 0.apk
64 MB
Neon Gunslinger VR 1 1 2.apk
66 MB